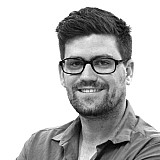 Dale Wood has accepted part of the blame for his clash with team-mate Fabian Coulthard at Winton, but says both parties played their part in the incident.
The Brad Jones Racing pair collided on track during qualifying on Saturday at Winton. The incident happened when Wood was on a qualifying lap and Coulthard wasn't, Wood hitting his team-mates door after expecting him to give way.
A heated exchange between the pair followed in the garage, with Wood admitting that he still hasn't properly spoken to Coulthard about it since.
"We haven't had a discussion about things yet, but generally in between rounds we often don't have a whole lot to say to each other," Wood said on Fox's Inside Supercars programme.
"My view was it was a tiny little incident on the track and it's just escalated when it got into the pits. Probably a few personal comments upset me the most, and got me a bit fired up.
Blame should be shared
After the incident, Coulthard suggested that Wood should have had his lights on if he was on a qualifier, as per a gentleman's agreement between the drivers.
Wood says he accepts that was a mistake on his behalf, but that he would have still expected Coulthard to know he was there.
"Admittedly I made a mistake, didn't have my headlights on. But we all know when someone's coming up behind us at a rapid rate. I had my quali tyres on he was on his warm-up tyres."
No future problems expected
While Wood said he and Coulthard hadn't discussed the issue yet, he also doesn't expect it to be an on-going problem.
"The one thing at BJR is that its got an unbelievable vibe, and a great feel, and that's not going to change," he said.
"We'll be right when we get to Darwin; we'll have our shorts on, get some sun on the legs, and I'm sure everything will be fine when we're off and racing again.
"We debrief together, and when it comes to down to having to talk about the car and the issues that we're battling over the weekend with the handling and the racing, we've been talking on that front. There are no issues there. It's just one of those things.
"We're not robots. We all have emotions, and emotions are high when you're in that situation.
"We're all passionate about what we do, behind the scenes you're always working hard with sponsors and things going on, so that's where it stems from."