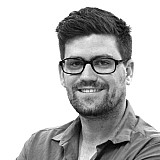 V8 Supercars points leader Mark Winterbottom says he's wary of letting the Queensland Raceway round be a turning point in the championship like it was a year ago.
Winterbottom, who currently leads the points by 248 points over Craig Lowndes, also made a quick start to the 2014 season. Heading into Queensland Raceway last season, he had a 96-point lead over Jamie Whincup. By the end of the weekend, Whincup led by 15 points.
By the end of the season, Whincup stretched that lead to 596 points over Winterbottom.
"Last year was a big turn-around in the championship in a bad way for us, so we need to make sure we back up our good results," said Winterbottom.
"Coming off Townsville with two wins, and the results we've had so far this season, I'm pretty keen to get back in the car so hopefully it's good for us.
"I think Ipswich will be good for us. It's been a round that has been a little bit hard in the past but it'll be good to try out the new car there and see what it does.
"We're going into enemy territory up in Queensland, to [Triple Eight's] home track and test track so we'll see how we go. It's going to be tough, but I think we've got a car that's capable of getting a good result if everything goes well."
Mostert happy to head home
Winterbottom's team-mate Chaz Mostert, meanwhile, has no qualms heading to Ipswich. Not only is Mostert Queensland-born, making it a home round, he also took his first ever V8 Supercars win at Queensland Raceway, for Dick Johnson Racing back in 2013.
"Ipswich has been a pretty good hunting ground for me in years gone by," he said.
"I had my first ever V8 Supercars race win there and a couple of podiums there last year as well, so I'm looking forward to going back.
"It's a bit of a home track for me, being a Queensland boy, so fingers crossed we can get it lickety-split out of the gate and really push hard for some results and keep pushing in the championship to try and get our cars to 1-2-3."