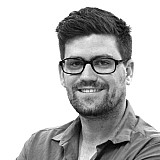 V8 Supercars championship leader Mark Winterbottom doesn't believe Prodrive Racing Australia is dominating, despite the team winning eight of the last 11 races.
Winterbottom has won six of those eight races, including a double win on the streets of Townsville last weekend. As a result, he holds a comfortable 248 points over Craig Lowndes.
PRA's strong results have led to whispers about the parity of the Ford Falcon FG X from rival manufacturers, but Winterbottom is adamant that the team isn't that dominant, despite the run of good results.
"I wouldn't say domination," he said.
"In [Sunday's] race James [Courtney] was the quickest car looking at pace, and in [Saturday's] race Fabian [Coulthard's] car looked like it was the quickest on pace.
"We're pushing along, and we're qualifying in the right spots, which lets you race. Last year we had really good race pace too, but we qualified poorly.
"This year we get the most out of the tyre on one lap, which puts you up the grid. That's been the biggest gain."
Title not "in the bag"
He may have a very healthy points lead, but Winterbottom says he's not thinking about winning the title just yet.
"It's just good to win races, to be honest," he said.
"Last year I was here in this position, and I lost the championship by 400 points. So to sit here and think you've got it in the bag or whatever, you're kidding yourself.
"We'll keep doing what we do. It's nice that we're getting results, the other guys, you can't really control. The days that Lowndes, [Jamie] Whincup, Fabian have bad days, you've got to maximise them. That's what we've done well this year.
"Last year we didn't; if they had a bad day, we had a bad day.
"It's good, it's good to lead. Hopefully we can maintain it and bring it to Homebush."