Get alerts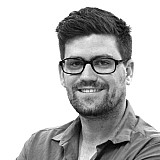 Mark Winterbottom drew first blood at Barbagallo Raceway, winning the weekend's first race comfortably from team-mate Chaz Mostert.
The pair started the race first and second on the grid, but switched positions on the run to the first corner after Winterbottom made the better of the starts.
That was essentially the end of the race, the team-mates refusing to fight, instead working together to dictate the pace at the front of the field and protect their fickle Dunlop rubber.
The only threat to the Prodrive pair came from Craig Lowndes. The Triple Eight Commodore driver was able to shadow the leaders for the entire race, but failed to make any sort of genuine challenge for the lead, and ultimately cruised home third.
"Chaz had quicker car, but I got him off the line," said Winterbottom. "A 1-2 is awesome. It's great for Ford fans, every year they support us. A 1-2 is as good as it gets."
Shane van Gisbergen and Jason Bright rounded out the top five, although the pair did have some help in the form of Garth Tander's retirement. Tander had looked good for a decent finish at his home circuit, only to have a left-rear suspension failure mid-way through the contest.
"It just failed, on the short shift out of turn four," Tander explained.
"I thought it was a puncture, but I didn't get an alarm on the dash. But I knew it was some sort of failure. I was pretty gutted."
David Reynolds contributed to Prodrive's good start to the day by finishing sixth, having survived an early scare while battling James Courtney. The pair made contact coming over the hill on the run to turn seven, Reynolds forced to take evasive action to avoid a crash.
Will Davison finished seventh, best of the Erebus Mercedes, ahead of Fabian Coulthard and the Nissan of Rick Kelly.
Courtney held on to finish 10th, the Holden Racing Team driver struggling for grip throughout the majority of the race.
Jamie Whincup, meanwhile, lost the championship lead to Lowndes, despite battling his way from P21 on the grid to 15th at the finish.
| | | | | | |
| --- | --- | --- | --- | --- | --- |
| Pos  |  Driver  |  Car  |  Laps  |  Time  |  Gap |
| 1 | M.Winterbottom | Ford | 25 | 24'36.1409 |   |
| 2 | Chaz Mostert | Ford | 25 | 24'36.7337 | 0.5928 |
| 3 | Craig Lowndes | Holden | 25 | 24'39.0974 | 2.9565 |
| 4 | S.van Gisbergen | Holden | 25 | 24'44.9374 | 8.7965 |
| 5 | Jason Bright | Holden | 25 | 24'45.3156 | 9.1747 |
| 6 | David Reynolds | Ford | 25 | 24'46.2600 | 10.1191 |
| 7 | Will Davison | Mercedes | 25 | 24'49.1140 | 12.9731 |
| 8 | Fabian Coulthard | Holden | 25 | 24'52.4445 | 16.3036 |
| 9 | Rick Kelly | Nissan | 25 | 24'54.1019 | 17.9610 |
| 10 | James Courtney | Holden | 25 | 24'54.6180 | 18.4771 |
| 11 | Scott McLaughlin | Volvo | 25 | 24'56.0444 | 19.9035 |
| 12 | Todd Kelly | Nissan | 25 | 25'00.4572 | 24.3163 |
| 13 | James Moffat | Nissan | 25 | 25'01.1844 | 25.0435 |
| 14 | Lee Holdsworth | Holden | 25 | 25'01.3847 | 25.2438 |
| 15 | Jamie Whincup | Holden | 25 | 25'01.7223 | 25.5814 |
| 16 | Tim Slade | Holden | 25 | 25'02.7632 | 26.6223 |
| 17 | Ashley Walsh | Mercedes | 25 | 25'03.6751 | 27.5342 |
| 18 | Michael Caruso | Nissan | 25 | 25'04.0231 | 27.8822 |
| 19 | Nick Percat | Holden | 25 | 25'04.3282 | 28.1873 |
| 20 | Tim Blanchard | Holden | 25 | 25'05.2681 | 29.1272 |
| 21 | A.Heimgartner | Ford | 25 | 25'05.7559 | 29.6150 |
| 22 | Scott Pye | Ford | 25 | 25'06.6613 | 30.5204 |
| 23 | David Wall | Volvo | 25 | 25'07.3781 | 31.2372 |
| 24 | Dale Wood | Holden | 25 | 25'07.7948 | 31.6539 |
| RET | Garth Tander | Holden | 7 | 6'52.7184 |   |