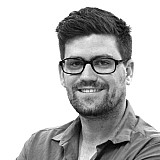 When looking for the biggest threat to his title run, Mark Witerbottom believes he doesn't have to look any further than his own teammate.
Mark Winterbottom admits team-mate Chaz Mostert is the man most likely to deny him a first V8 Supercars title this season.
Winterbottom has been on control of the title fight for the majority of the season, and underlined his position as favourite with an impressive Sandown 500 victory last Sunday.
However, with the points system rewarding consistency rather than outright speed, and with Mostert right on his tail, Winterbottom says there is plenty more to be done.
"We had an awesome day, win the race, and get 24 points. It's kind of almost a slap in the face a bit, but that's what the sport is," Winterbottom said.
"Chaz is going to be up there for the rest of the year. He's qualifying amazingly. He's always going to be at the front, so it's our job to make sure we're doing a good job too.
"There's no doubt Chaz is the biggest threat to try and take this thing, so we'll be working hard to beat him, but working hard with him to make sure no one jumps us as well.
"We've got to focus on who's around. Six hundred points, 500 points, it can all change after Bathurst."