Get alerts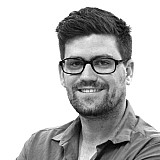 Mark Winterbottom's engineer Jason Gray believes that this could be the season that the Prodrive driver finally wins a V8 Supercars title.
Gray only moved into the race engineer role on the #5 Prodrive FG X Falcon at the beginning of this season, replacing Grant McPherson, who moved over to rivals Triple Eight during the summer.
Winterbottom and Gray have quickly formed a strong working relationship, having won four of the 12 races so far this year, and currently hold a 15-point lead in the championship.
Gray, who was Winterbottom's data engineer before being promoted into the senior engineer role, says the team is well and truly focussed on retaining that number one spot right through until the end of the season.
"My goal was always to win the championship," said Gray.
"Working with [Winterbottom] over the last four years we have had a couple of seconds and thirds, so we are hungrier than ever to get the that number one on the car.
"This year has been so far so good. We are currently leading the driver's championship and are not far off in the team's championship – so it's a good place to be."
FG X a major boost
Gray reiterated the fact that switching from the FG to the FG X has been a major competitive boost for the Melbourne-based team, and that he truly believes this could be the year that Winterbottom can finally win a title.
"We lost a bit of competitiveness going from the 2012 (previous generation FG) to the 2013 Car of the Future-spec," he said.
"The FGX has given us that competitiveness back which is fantastic and we're continuing to develop it and learn more about it at every race we go to.
"Now that we're leading the championship we need to make sure we're finishing in the top five of every race, if not winning it, to maintain that position.
"It's a big ask but one I believe we can stick to."