Get alerts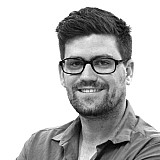 Jamie Whincup is still in contention to win a seventh V8 Supercars title in 2015, according to his Triple Eight engineer Mark Dutton.
Having gone through an early-season slump, Whincup is currently a whopping 391 points behind leader Mark Winterbottom.
However, at last weekend's Townsville round Whincup did show some signs of improvement. That was in part thanks to an engineering change, which saw Mark Dutton – the man who has won five titles with Whincup – step back from the team manager role to replace David Cauchi as Whincup's engineer.
It has since been confirmed that the move will be made permanent, with Dutton to continue engineering the #1 Commodore, while Roland Dane essentially re-claiming the team manager role across race weekend.
And Dutton isn't coming into the role to fight for second spot, telling the panel on Fox's Inside Supercars show that he expects Whincup to challenge for the title.
"Of course we can [win the title] mate, you know that," he told V8 Supercars legend Mark Skaife.
"It's not over, there's lots of points to be had."
Pressure led to change
According to Dutton, what finally sparked a change on the engineering front was the pressure being put on Cauchi during Whincup's slump in form.
"He's an exceptional engineer, and the pressure was getting too much," said Dutton.
"It wasn't a request from him or anything, but on the weekend, it was amazing to see him basically shining. With the pressure off, he could really step back up to the brilliance that we know he can produce.
"It worked so well on the weekend; it's one of those things, maybe we should have done it earlier."
Lowndes also a factor
The reason the change wasn't done earlier, says Dutton, is that while Whincup was struggling, Lowndes has been in good form so far this year – and still currently sits second in the standings despite a relatively poor weekend in Townsville.
"The biggest thing that stopped us from doing it was we didn't want to break Craig's roll; obviously on the weekend you could look at it that maybe we have done it in that way," admitted Dutton.
"But big picture, the engineering group worked really together, stepped it up for the weekend, so we hope we can continue that. Craig is still our lead ship, so there is still a lot of focus on him.
"We keep talking about Jamie – it's not all for him and about him. It's a whole team thing. If both cars are doing well you grow and learn off each other and get better and better."