Get alerts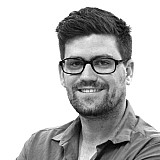 Jamie Whincup will start the Sandown 500 from pole position, after holding out Prodrive's Mark Winterbottom and Chaz Mostert in a tense second qualifying race.
Whincup started from pole position thanks to his co-driver Paul Dumbrell's earlier success, but despite leading all 20 laps it was hardly a straightforward victory.
The top five spent the entire race running nose-to-tail, with Whincup unable to pull away from the four-car train behind him, which consisted of Winterbottom, Mostert, Shane van Gisbergen, and David Reynolds.
What made things even tenser was the way the race finished, a one-lap sprint after a late Safety Car making for a frantic run for the flag.
But in the end, Whincup was able to soak up the pressure and bag pole for tomorrow's first endurance race of the season.
"I was a bit of a road block in that race," said Whincup. "So there is still a bit of work to do. But it was great to maximise today."
Winterbotton and Mostert finished second and third, but it wasn't without controversy. Having run nose-to-bumper all race, the team-mates had a coming together on the run to Turn 2 on the final lap of the race.
The contact sent Mostert flying across the grass, the youngster lucky to not lose third place to van Gisbergen.
That wasn't the only team-mate action; on Lap 6, Nissan driver James Moffat sent boss Todd Kelly flying across the grass – as the pair battled over 22nd position.
The unluckiest driver in the race was without a doubt Jack Perkins. Having run P6 in the early stages of the race, Perkins was run off the track at Dandenong Road a few laps in.
Having dropped to the back of the field, he was then taken out by an out-of-control Andre Heimgartner, contact that left both cars out of the race.
Lowndes, meanwhile, will start 23rd after being given a drive-through for his bump-and-run on Perkins. To that point he had been running seventh, an excellent recovery after initially qualifying 16th this morning.