Subscribe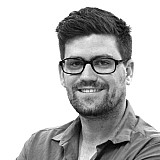 Jamie Whincup says he is gutted by not getting a result yesterday at Symmons Plains, and admits the mistake that saw him run wide after his second stop was simply a "rookie error".
Whincup's bad day in the office started when he was forced to stack behind team-mate Shane van Gisbergen in the pits when Chris Pither's crash triggered an early Safety Car.
He then wound up needing to be recovered from the gravel on the outside of the hairpin after running wide following his second stop, before making a second – and final – trip into the gravel after slipping up on oil left by Cam Waters's Ford.
"I am not complaining about stacking, that's what the game is all about," said Whincup.
"I made a rookie error, locking a wheel on cold tyres, and I ended up in the gravel trap. I then found myself in there a second time, going into another car in the gravel trap and doing damage to the car.
"Just gutted, gut-wrenching for the team. We had two fast cars all weekend and to walk away without a result is hard to take.
"But, as we all know, that's motorsport,we engage in this sport knowing these things will happen."
Triple Eight to review mistakes
Triple Eight team manager Mark Dutton says his team will review the circumstances that led to van Gisbergen and Whincup being caught out on oil.
Van Gisbergen looked odds-on for victory in Tasmania, having effectively led all but four of the laps during Sunday's race.
But, like Whincup he was also caught out but the oil left at the hairpin, running wide a lap after his team-mate, before becoming bogged in the gravel.
Dutton said that the issue would be reviewed by Triple Eight.
"We could have done a better job, so we'll review that," he told Fox Sports immediately after the race.
"Better warnings, earlier warnings, things like that. And we'll review [Whincup's crash] and see what we could have done better to help there.
"We take away from this really good car speed, so a lot of positives."
Van Gisbergen, meanwhile, moved to take the blame himself.
"At the end, we had really great pace and pulled away, but I just mucked up at the hairpin where the oil was and I just couldn't stop and got stuck," he said.
"So, 150 points down the toilet really. We had fast cars all weekend, we were the quickest, it's a real shame that it ended that way."