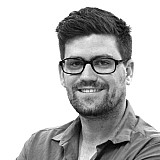 Jamie Whincup will shake down Craig Lowndes's brand new Triple Eight Holden Commodore at Queensland Raceway today, after Lowndes was advised not to drive by his doctor.
Lowndes was meant to make his return to the cockpit today less than a month after breaking his collarbone in a motorcycling accident.
However, the plans changed at the last minute when Lowndes's doctor advised that he not drive the car, as he continues to work on his recovery ahead of the season-opening Clipsal 500.
That means Whincup, who was already on standby, has stepped into the driver's seat.
Lowndes is expected to cut his first laps of the year at the team's full test day this Thursday.
Triple Eight is shaking down two new chassis today, with both the TeamVortex car that Lowndes will race, and the brand new Red Bull Racing Australia car for Shane van Gisbergen.
It will be van Gisbergen's first proper outing in a 'factory' Triple Eight chassis.
Whincup won't start the season with a new chassis, having debuted a fresh Commodore last September.