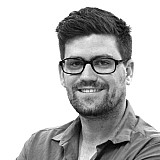 Jamie Whincup says bringing a brand new chassis to the Sandown 500 this weekend was a "big risk", but one that looks set to pay off.
The reigning V8 Supercars driver tested the brand new car at Queensland Raceway last week, although running was limited thanks to a vibration problem.
While the team had no chance to check if the problem had been solved before today's practice sessions at Sandown, thanks to the strict testing regulations in V8 Supercars, it opted to bring the new car to the first endurance race anyway – a move Whincup admits was risky.
However after going fastest in this morning's opening practice, and Paul Dumbrell well inside the Top 10 in both the co-driver sessions, Whincup says the risk looks set to pay off.
"We came in here this weekend with a massive question mark over the car," he said.
"We competed about 10 laps in our test day with a big vibration, so we took a big risk. The vibration is gone which is great, so the day was a positive.
"It was a risk, but yeah, we've got to take risks at this stage being a bit… not as up the pointy end of the championship as what we would like.
"So the risk paid off this time. The car is good, it's just a matter of making it quick now."