Get alerts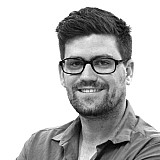 Jamie Whincup admits his chances of winning a record seventh V8 Supercars title are slipping away following another disappointing round in Darwin, saying it's "a long way back" into contention.
The Triple Eight driver had a tough weekend at Hidden Valley, finishing 11th, 16th, and 22nd from the three races, including being lapped by the leaders in the 200 kilometre final. He was also handed a 25-point penalty for making contact with Fabian Coulthard at the start of Saturday's first 60-kilometre race.
As a result, Whincup now sits a whopping 286 points behind championship leader Mark Winterbottom, 82 points further back than he was last year before he went on a charge and ultimately won his sixth title.
Tough from here
While Whincup isn't ruling himself out of the title race, he admitted after Darwin that its getting harder and harder to come back from this far behind – despite having pulled a similar trick 12 months ago.
"You can't rely on that," he said.
"You need to be right up there, you need to be fast – I'm not thinking [being able to fight back] at all. We just need to get the car speed.
"It's a long way back from here, but let's not talk too much about it. It's just about going fast and trying to win races, but that's a long way away at the moment.
"We've got, I do feel like… no I won't say too much, it's a bit heat of the moment – we'll just keep doing what we do."
Making up the numbers
The reigning series champion almost pulled off a great escape on Sunday at Townsville, his engineers opting to try and run the whole race on one set of soft tyres, which almost paid off with a Top 10 position.
But late in the race a delaminated tyre cost Whincup dearly, forcing him to pit and leaving him a lap down on the leaders.
"We ran a pretty radical strategy there – went out on a limb and it didn't pay off so ultimately we didn't quite have the pace either, so we were making up the numbers today unfortunately," he said.
"I hate to say that but I always try and play a straight bat and we were making up the numbers.
"You've got gut feels, but I always keep independent of that, I trust the skill base of the engineers to make the calls and they've made the calls with the information they've got.
"Yeah, whatever they come up with I'm committed to that, try to make it work as much as we can."