Subscribe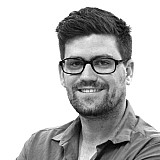 Reigning V8 Supercars champion Jamie Whincup says Saturday was a disappointing day at Winton, as he and Triple Eight again failed to trouble the front-runners.
Whincup, who also struggled at the last round in Perth, was quiet in the first two races at Winton yesterday, finishing ninth in race one and sixth in race two.
While those results themselves aren't disastrous, the clear gulf in raw pace between the Triple Eight Commodores and the Prodrive Falcons is what has Whincup concerned heading into today's 200-kilometre race.
"We just didn't have any pace again [on Saturday], which is disappointing," he said.
"This part of the year is about trying to win races and just make an impact.
"We need to get out there and race hard, but we just didn't have the pace, which meant we don't have any fun either, which is the main thing. That's what it's all about, getting out there and having some fun.
"[Today] is a longer race and that means we'll be off the pace for longer, but there are also more opportunities to come back.
"There's no lack of trying going on behind the scenes. We'll keep burning the midnight oil and see what we can come up with next time."
Whincup went into the last round in Western Australia leading the standings, but now has slipped to third behind team-mate Craig Lowndes and Prodrive's Mark Winterbottom.