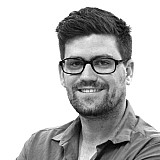 Jamie Whincup brought his 15-race losing streak to an end with a tense win at Sydney Motorsport Park.
After a tough run of form, Whincup bounced back with his first win since Symmons Plains on Saturday evening, having scored his first podium since May in the day's first race.
However he didn't have it easy. After jumping pole-sitter Chaz Mostert on the run to Turn 1, Whincup quickly found himself under attack from another fast starter in Fabian Coulthard. And it was a relentless attack, Coulthard sitting under Whincup's rear wing for all 16 laps.
Despite a broken header costing him a little bit of power, Whincup was able to do enough to take a much-needed victory for Triple Eight.
"It has been a while," Whincup said. "Fabs is always quick on soft tyres, so it was a good battle."
Race 1 winner Mostert had a very quiet race, able to stalk the leading cars from a distance but unable to make any sort of charge for the lead. He wound up third, banking a good haul of points over team-mate and title rival Mark Winterbottom who managed just eighth.
Scott McLaughlin was a lonely fourth, having passed Shane van Gisbergen on Lap 11. Van Gisbergen, however, had a very busy finish to the race; once behind McLaughlin, the Kiwi had a four-car train form behind him with David Reynolds, Lee Holdsworth, Mark Winterbottom, and Will Davison all wanting to have a crack at the #97 Commodore.
In the end 'The Giz' was able to keep them all at bay, the fivesome finishing in that order.
The majority of the race's action happened on the first lap, with James Moffat and Scott Pye getting together, causing the Penske driver to spin.
Then Jason Bright went for a crazy ride off-track after contact with Garth Tander, the Brad Jones Racing driver lucky to miss everything and not have a much bigger crash. He did ultimately end up in the wall, however, a subsequent failure sending him off the road at Turn 1 on Lap 8.