Get alerts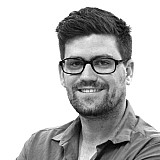 Jamie Whincup says his Race 8 podium finish belies how much he and Triple Eight struggled at Barbagallo Raceway today.
Whincup, who came into the round leading on points, could manage just 21st on the grid and 15th in the race for this afternoon's first outing, before qualifying and finishing second in the second race of the day after withstanding race-long pressure from Fabian Coulthard.
Despite the good result, Whincup was downbeat after the race, suggesting that his Race 8 qualifying lap was the only thing he got right all day.
"It's not our proudest day at the race track," he said.
"We pretty much had one good lap to show for our day, the rest was pretty ordinary.
"In race one I started down the back and stayed down the back, and held all the other blokes up in the second race to finish second. So yeah, we've got some work to do.
"I was full speedway at the end [of race two]. It's almost embarrassing to stand on the podium at the end of the day, because I had absolutely no pace.
"Lucky it's a track where it's difficult to pass."
Whincup also admitted that his Race 7 form wasn't down to any specific problem, just a general lack of pace.
"No excuses, there are no issues, I just couldn't get around the track as quick as 18 other people."
Slow, not conserving
While some drivers opted to 'throw' Race 8 to save tyres for tomorrow's big points 200-kilometre race, Whincup confirmed that it was a lack of pace, not tyre saving, that saw him struggle throughout the day.
"If there were options there, then I'd say yeah we were [conserving tyres]," he said.
"But there are no options. You have to run good tyres all the way through. We have a set for tomorrow and a soft set as well.
"We're not conserving, we just don't have the pace."