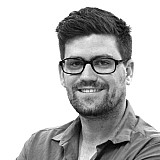 Tim Edwards says Prodrive rookie Cam Waters is doing a good job of asserting himself against the more established drivers in the V8 Supercars field.
Waters joined the Prodrive team as a full-time main series driver for the 2016 season, after making several starts for the squad in 2015, first as an endurance driver and then as a replacement for the injured Chaz Mostert.
And while the V8 Supercars pack can be an intimidating place for a rookie, Prodrive Racing Australia boss Tim Edwards says he's been very impressed with the on-track attitude that Waters has shown across the first two race weekends of the season.
"There's no doubt that some of the veterans of the category like to beat up on the new guys a little bit, show them who's boss, intimidate them," he told Motorsport.com.
"But he's not intimidated at all. He raced very well in Adelaide, and he passed a few cars at Albert Park as well. He's not scared to have a go, and he's got the car control to back it up.
"And to qualify in the Top 10 Shootout in Adelaide, that, at this point in his career, is pretty good."
In his exclusive column earlier this week, Waters said it was his clear intention to not be pushed around by the experienced guys in the field.
"At the end of the day when the lights go green I'm 100 per cent here to race," he wrote.
"I might still be a rookie, and I know a few of the more experienced guys might see me as the new guy and perhaps a bit of a pushover, but I've got no plan on that being the case."