Get alerts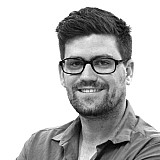 A worldwide recruitment drive will be used to find a successor for Adrian Burgess at HSV Racing, says team owner Ryan Walkinshaw.
The team parted ways with high-profile team manager Burgess late last week, after a difficult start to the 2017 season for drivers James Courtney and Scott Pye culminated in a tense weekend in Perth.
The subsequent reshuffle has seen Mathew Nilsson come in from the GT3 programme to take over the Acting General Manager of Motorsport role, however the team is already looking for a more long term solution.
That permanent solution could well be Nilsson, who will be evaluated as a potential full-time appointment. But there will also be an external recruitment drive, with candidates from around the globe set to be considered.
"Short term we have Mat Nilsson who's taken over as interim team principal," explained Walkinshaw during a press call at Winton today.
"Mat's got a huge wealth of experience, he's been with the team for many, many years, he's one of the best guys we've got in the business and he's been doing a great job with our GT3 programme – currently leading the championship there.
"He'll have a good swing at the opportunity and what a great chance it is for him to prove himself during this process.
"But parallel to that we'll be going through a proper recruitment process with an agency and we'll see which CVs we get through the door.
"There's a couple of targets we're looking at, but we're pretty open minded.
"It would make me very happy if we go down the route of looking at something internally, but we're looking through the whole process. We're looking externally, internally, locally, and internationally."
Burgess firing 'not taken lightly'
While tensions seemed to reach boiling point during the Perth weekend, Walkinshaw says the decision to part with Burgess wasn't based on a single poor weekend.
Rather, he says it was a long process of not seeing improvement in the team's form.
"These things aren't something that's taken lightly," he said.
"It certainly wasn't a simple reaction to a poor weekend at Perth and other poor weekends before that. We've had bad race weekends in the past and we'll have bad race weekends in the future.
"But I don't think that it is unreasonable for someone in my family's position to expect an increase in performance year on year.
"We haven't seen that, and that was the reason why.
"Doing something irrationally off the back of a poor race weekend is not something that we do. Even though we had a couple of bad race weekends so far this year, back to back, I think it's been very obvious to everyone that rather than improving performance every single year we go through peaks and troughs.
"For the last couple of years, we seem to be going around in circles a little bit. For us that's not acceptable.
"We want to be a team that at least increases performance year on year, not sit where we have been."