Get alerts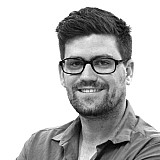 Shane van Gisbergen admits the step up to crack V8 Supercars squad Triple Eight Race Engineering was "surprising".
The Kiwi left T8 satellite squad Tekno Autosports at the end of the 2015 season to join the 'factory' Red Bull Racing Australia team. And while it was expected to be a reasonably straightforward switch, given that Tekno runs Triple Eight-built hardware, van Gisbergen admits that the differences have taken some getting used to.
"It was quite surprising how big the jump was," he said on the Fox Sports Inside Supercars programme.
"It's just a couple of performance parts, but the set-up philosophy is quite different. We went our own way the last couple of years [with Tekno], so I've had to really adjust. But I'm getting the hang of it slowly."
Van Gisbergen added that its also taken time for him to feel truly comfortable in a full-blown Triple Eight Commodore.
"I was quite comfortable at the [pre-season] test day, and then we got to Adelaide with the bumps, and then of course you're pushing at 100 per cent, and just a few things showed up," he said. "It's taken a while to get comfortable, and then get used to the car. We're getting there."
Blame accepted for oil slip-up
Van Gisbergen also put his hand up to accept blame for hitting the oil that left him beached after leading all but the final four laps of Sunday's race in Tasmania.
He says he did receive a radio call to be careful, but was both distracted by a minor engine issue, and misjudged the direction of the oil slick.
"I got plenty of warning, and I saw the oil was quite visible straight ahead and I saw all the cars were straight on," he said. "So I braked early, braked to the inside – but what I didn't know is that [Cam Waters had] gone into the corner and then back out. I saw the oil go into the corner at the last minute, but I just couldn't pull it up.
"It was my mistake; [there was] big pressure from behind, so I was trying not to lose time. It was my fault completely, I just didn't want to give up much time.
"I had an engine problem at the hairpin, there was a few contributing things. It was just a few little issues. It reared its head on Saturday, but we managed to keep the lead. It wasn't going to kill the race for us, but it was there.
"But at the end of the day it was my fault."