Get alerts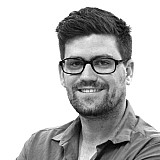 Shane van Gisbergen says he doesn't buy James Courtney's theory that he didn't know the pair were side-by-side when they clashed in today's first V8 Supercars race.
Courtney hit van Gisbergen on the run to turn one after a late-race restart, taking both drivers – and Courtney's Holden Racing Team team-mate Garth Tander – out of contention for a podium.
Afterwards, Courtney said he was hit from behind, and didn't know van Gisbergen was there.
"I was running side-by-side [with van Gisbergen] and then we all went into turn one and I got hit from behind," said Courtney.
"I was pulling up but then I got hit again and then hit into [Tander]. I wasn't trying to pass him or anything.
"I could see him there on the restart, then we got the jump and I couldn't see him anymore. Then he hit me in the rear and it was all over."
But van Gisbergen, who had been hit in the side by Courtney's car, reckons the HRT driver knew exactly what was going on.
"James was in the media last saying he's not going to back down for anyone, he's going to be aggressive," van Gisbergen said.
"I held my line, stayed straight; he said I wasn't there, but I was right beside him watching him looking at me, so he knew I was there."
Van Gisbergen also said that Courtney later apologised for the crash.
"He said sorry, but it was two HRT cars again in the weeds," said the Kiwi.
"It's his problem he's driving like that, but I'm sure he'll get better."