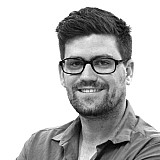 V8 Supercars has confirmed it intends to give teams more sets of tyres to play with in 2016, and will also look to increase the amount of racing done on the softer compound next season.
The V8 Supercars Commission is currently evaluating which of the Dunlop compounds will be used next season, after Jamie Whincup tested a new super soft tyre compound at Queensland Raceway last week.
While there is still no news on whether the super soft will in fact go into production and be used next season, it would seem that the likely outcome will be increasing running on the existing soft tyre, rather than introducing a whole new compound – particularly with tyre orders needing to be placed well before the end of the year.
According to V8s boss James Warburton, it has already been decided that there will be more running on the soft compound next year, regardless of what happens with the hard and the super soft.
"There is no doubt that our championship needs to be on the soft tyre more often than the hard, that will happen as we head into 2016," he told Fox Sport's Inside Supercars programme.
"But you can't just change things overnight; we put our tyre orders in around October/November, and then we're set for the year. So you can't just flick a switch."
More tyres in general
A lack of green tyres – hard or soft – for practice and testing has been a major issue in the paddock this season, with teams constantly complaining about a depleted tyre bank on Fridays.
Despite changes to the tyre bank rules mid-season, with teams given fresh 'hand back' tyres for Fridays, Warburton says there will be an even greater emphasis on helping teams have more fresh rubber to work with next season.
"The quantum of tyres is also important," he added.
"The sport has had to cut some cloth to suit, but I can tell you that next year there will be significantly more tyres in the mix – which is something that the category is sorting out, which is very important."
Saturday format also in the firing line
The crucial Commission meeting later this month will not only decide the tyre regulations for 2016, but will also address the issue of format for the SuperSprint rounds.
That could well mean the death of the oft-criticised two-race format currently used.
"The Commission will meet around the 23rd of September, which is really D-Day in terms of working out where things are at," said Warburton.
"Really the only changes [are] what do we do to Saturday? Do we have two sprint races? Or a longer race with fuel and tyres stop in it?
"That's really what the Commission will decide over the coming weeks."