Subscribe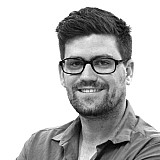 Winton race winner Mark Winterbottom has labelled James Courtney's decision to run wet tyres during a dry race "a bit silly", but admits he would have done the same thing in that situation.
After crashing into his team-mate Garth Tander on the first lap of the race, which took away any chance of a decent result, Courtney's Holden Racing Team crew went to drastic measures to save rubber for tomorrow's 200-kilometre race.
As a result, Courtney spent the second half of the race running wet weather tyres, despite the circuit being bone dry and there being a zero percent chance of rain.
That means he will have a better bank of hard tyres for tomorrow's race, with teams limited to 12 hard tyres and four soft tyres across the three qualifying sessions and three races.
While the move makes sense under the current tyre regulations, race winner Mark Winterbottom later said that it is a "silly" look for the sport. He did, however, admit that he probably would have done exactly the same thing if he'd been in Courtney's shoes.
"It's a bit silly, to be honest – but you'd do it if you were in the same position," he said.
"You've only got a certain amount of tyres, and he'll save them for tomorrow.
"It's hard; today is only worth 75 points, so you sacrifice 75 to try and get 150.
"We would have probably done the same, but it looks silly when the TV shows guys running around on wets and the sun is beaming down.
"I don't know of any other category that does that. But he's not doing anything that we wouldn't have."