Triple F Racing press release
Weekend of what could have been
Dean Fiore and Triple F Racing proved in Saturday's opening race at the Norton 360 Sandown Challenge, during tumultuous weather conditions, that they can hold their own against the V8 Supercars' best teams and drivers.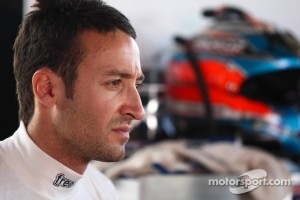 #12 Triple F Racing: Dean Fiore
After qualifying in 21st position, the team devised a well planned pit strategy, which allowed Fiore to jump up to the front of the field where he stayed comfortably fighting it out for a top 6 position prior to pitting. The team made an exceptional pit stop and Fiore was out in 12th position in the dying laps of the race, until a pushing Dumbrell fenced Fiore with only 3 laps remaining, denying the team of their best ever result.
Dumbrell was penalised for the incident, however it doesn't rectify Fiore's possible result.
Melbourne's weather dealt yet another card on Sunday, with both qualifying and the race run in dry conditions, meaning the team had to change the car's setup completely from Saturday's wet race.
Fiore was faring well at the beginning of Sunday's qualifying, and was sitting in the top 10 for some duration of the session, until a couple of changes on the car didn't go the way the team had hoped, which subsequently resulted in a 24th starting position for Sunday's 65 lap race.
On the opening lap of the race, Fiore sustained a knock to the front end which resulted in bent steering making it extremely hard to nurse around left hand corners. The team made the best adjustments they could during the scheduled pit stops but the cars handling was still appalling.
"It was another frustrating round for us, but we have definitely been more competitive in the last 2 rounds than we have been all year.
"Saturday's race was the scariest conditions I have ever driven in. To be pulling 6th gear going 240km/h sideways, whilst you cannot see in front of you was unbelievable.
"A ripper result really went begging for us on Saturday by no fault of our own. A top 12 result for a team like ours would've been phenomenal. There's definitely heartache when you get that close to a good result and think about what could have been," Fiore said.
The final round of the V8 Supercar Championship will be at Sydney Olympic Park in two weeks' time.