Triple F Racing press release
Encouraging speed across the Tasman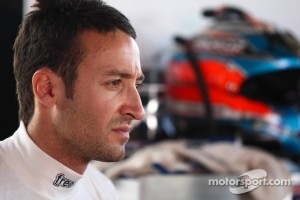 #12 Triple F Racing: Dean Fiore
The weekend's Falken Tasmania Challenge was the first time the series' regular drivers have raced without a co-driver in two months and also saw the return of a more normal race weekend format.
Saturday and Sunday both featured a single 20-minute qualifying session followed by a race with one 50-lap race on Saturday followed by an 84-lap race on Sunday.
WesTrac Racing's, Dean Fiore, showed good speed during the 4 practice sessions on Friday, ending up 8th on the time sheets in practice 3.
The team made minor changes to the car's setup prior to Saturday's qualifying, with Dean finishing the session in 21st position to start the 50-lap opening race of the Tasmania Challenge, only a mere 0.4s from pole.
Dean made a strong start to Race 23, passing several cars in the opening laps. A slightly longer pit stop coupled with a mistake and running wide into the hairpin on his out lap on cold tyres relinquished the gain, which resulted in the #12 Falcon taking the chequered flag in 19th position.
Sunday's qualifying was yet another extremely tight battle which saw the top 26 cars covered by 0.5s. Dean' flying lap was looking to put him into 16th before a locked front tyre put him out of the hunt for a decent starting position. At the conclusion of the qualifying session, Dean was placed 25th on the timing sheets for Sunday's 200km race at Symmons Plains.
Due to the closeness of the field, it proves extremely hard to gain track position in the races, which makes qualifying all the more important. As a result Dean was unable to make considerable gains in the race, and finished in 24th position.
"Believe me I am not happy just scrapping into the top 20 as I feel we should be running within the top 15, however we were a lot more competitive this weekend than we have been in the past few rounds, which is an encouraging sign," Dean said.
"We're not going to give up and I believe the team's constant improvement will net us a top 10 result before the season is out.
"We had good speed last year at Sandown, and the team is working extremely hard to get us to where we truly deserve to be."
The team now has a very quick turnaround to prepare for practice in just four days at Sandown for the Norton 360 Sandown Challenge.