V8 Supercars press release
Epic Recovery After 'Harsh' Call By Stewards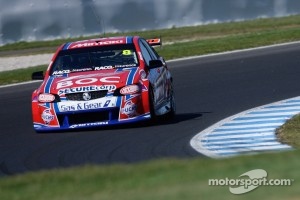 Brad Jones Racing Holden Commodore: Jason Bright, Andrew Jones
Recovering from the back of the grid has become a speciality for Team BOC this year but the crew had to do it twice today at Phillip Island to finish seventh.
Starting 22nd Co-Driver Andy Jones made his way up to mid-field before contact with Steve Richards, who was re-joining the track, cost the team a drive-through penalty.
Strategy stopped them going down a lap and lead driver Jason Bright blasted up to seventh by the end of 113 laps, registering one of the fastest laps of the race in the process.
The Bathurst 1000 is the next event on the calendar, from 6-9th October.
Andy Jones

Team BOC
"That was an incident that should have been looked at post race. It certainly wasn't clear and, obviously, I'm massively disappointed with Steve Richards and with the people that adjudicated on the incident.
"My understanding is that you can cover your line and I don't have an issue with that but we were on lap 30 of a 113-lap race and he covered straight out of the pit lane. I can work with that, but then he diverted again. The rule is that you're allowed to make one move to cover your line, which means you can't move right to cover and then go left so you've got the ideal line for the corner. I was tapped-out on the brakes. I couldn't slow any quicker. It was never going to work."
Brad Jones

Team BOC Co-Owner
"I feel we were very harshly done by today. I think the incident was marginal enough that the stewards could have sorted it out after the race.
"It had a huge impact on our result. We were the third fastest car on the circuit and more than capable of having another podium today. We were the fastest car lap after lap in the final stint."
Jason Bright

Team BOC
"Coming from down the back there, the plan was for AJ to work up to mid-field and then hope for a safety car mid-race. After that we would have been able to race our way through. If it hadn't been for getting the penalty, which meant we had to make our way through a lot more people, we were on for a podium at worst."