Team BOC press release
Third Time's A Charm For Team BOC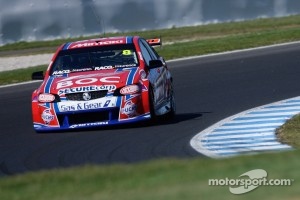 Brad Jones Racing Holden Commodore: Jason Bright, Andrew Jones
Practice one and two were hard work for Team BOC at Phillip Island this morning but the crew ended the day on top after some 'wholesale' changes.
Oil on the track in P1 and old tyres in P2 had Jason Bright and Andy Jones respectively puzzling over their lack of pace but the pair jumped to the top of the times in the third and final practice session of the day, finishing fourth overall.
Brighty put the leap down to ongoing tuning and says the car is very nearly where it needs to be. Both will now work to consolidate their gains in tomorrow's final two practice sessions before the L&H 500's unique qualifying procedure, which starts at 11.25.
Jason Bright

Team BOC
"I think we could have looked a lot smarter in the first session had the oil not gone down during my second lap, which was going to be the quickest of the session.
"I think this afternoon was more representative and we actually improved the car on the second outing but had a problem with our gear selector, which prevented us going faster. We're definitely getting to where we need to be."
Andy Jones

Team BOC
"I didn't drive the car at all at the end there. Off the back of P1 and P2 we decided it was better to put Brighty in the car for the whole of P3 and get it tuned. At the end of the day, if we have a good car it doesn't matter who's tuned it and that's his area. I'm confident when the car is good I'll be able to get in it and do a good job.
"We certainly made some reasonably wholesale changes between P1 and P2 going into P3 and I genuinely think P3 was a better indicator of pace. It's definitely more where we thought we'd be."