Team BOC press release
RIGHT SUFFERS RIB INJURY
Jason Bright was taken to the medical centre after today's 50-lap race at Symmons Plains Raceway suffering from severe pain in his side.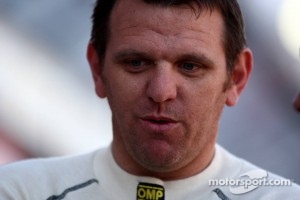 Jason Bright
V8 Supercar's Dr Carl Le diagnosed Costochondral separation, where the rib is torn loose from the costal cartilage and detached from the sternum.
The Team BOC driver believes he sustained the injury at Phillip Island but says the deterioration in today's race was so bad he considered pulling in. He will be given a local anaesthetic for tomorrow's race.
The injury saw Bright make a late error whilst trying to pass Tony D'Alberto for P15, dropping him to the back of the grid. Before that, Bright had consistently been amongst the top five fastest cars on track and says the team seems to be on top of its recent problems.
Qualifying for tomorrow's 50-lap race starts at 12.30pm.
Jason Bright
Team BOC
"I've been feeling some pain in my rib since Phillip Island but have been able to keep it under control by just nursing it. Around here, with all the left-handers, it's got pressure on it all the time and I've obviously damaged my rib quite badly.
"It happened just as I caught Russell Ingall before the safety car and I lost a lot of ground over that lap because I was in a lot of pain. I was very concerned about what it could be, but just gritted my teeth for the rest of the race.
"The car felt very good. We've certainly got on top of our problems, but it's very hard to pass here even though I could catch guys at half-a-second a lap.
"We made a few changes to the car between qualifying and the race to improve where we were really weak in the first sector. We were really strong in that part of the track in the race so I'm looking forward to qualifying tomorrow."