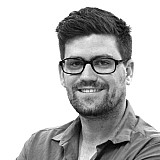 Mark Skaife and Scott Mclaughlin have both called for V8 Supercars to adopt a Virtual Safety Car-style system.
The V8 Supercars full course caution procedure was called into question at Symmons Plains last Sunday when competitors were effectively at full speed when the Safety Car was on track as they looked for fast in and out laps around their pitstops.
There was even a moment when the Safety Car was parked on the run to the hairpin waiting to pick up the leader with other cars going past at racing speed.
According to five-time series champion and Fox Sports commentator Skaife, pitlane penalties for speeding behind the Safety Car are useless given the frequency with which offences occur.
Instead, Skaife says a VSC-style system is needed.
"We all know the gamesmanship, but the reality is that is dead-set dangerous," Skaife said on Inside Supercars last night.
"The reality of the weekend is you would have had to have given everyone a [pitlane penalty] – because the whole field did it. To me that's the issue.
"At the end of the day, press the button and make it 60 kay, or whatever the speed is."
Volvo driver McLaughlin agrees with Skaife.
"I think it needs to be a set speed," he added. "What do you determine [as] slow? Is it the guy who's done three or four tenths slower than the other guy?
"I think a set speed, like a speed limit, would be a good thing."
No choice but for 'qualifying' laps
Rick Kelly also weighed in on the issue, explaining that under the current regulations drivers were left with little choice but to do 'qualifying' laps when the Safety Car comes out.
"The Safety Car is the issue," Kelly said on Inside Supercars.
"It's also right in the middle of the pitstop windows, so as you see that, you've got a couple of laps that you've got to put in qualifiers to make sure that you don't lose out. And everybody is doing the same thing.
"It becomes an issue for the Safety Car, for the people within it, the driver – but also where the incident is.
"In every briefing we talk about having to slow down, and you definitely have to, but at the same time this is our job. We need to win that race at all costs. It's very difficult to pass in this category, that's where you're going to make up your spots."