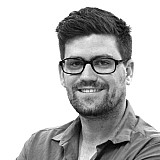 V8 Supercars drivers will from Darwin onwards be banned from using wet tyres during dry races, in order to save rubber.
The issue was brought to a head at the last round at Winton, when James Courtney, who was running at the back of the field after being given a drive-through penalty, switched to wet tyres in order to save a green set of slicks.
As part of a reform of the tyre regulations ahead of the next round in Darwin, which include a set of soft tyres for Saturday's second race, V8s has now banned the use of wet weather tyres unless the race director officially declares a wet race.
"While the instance of car #22 using wet tyres on a sunny day at Winton was within the rules, it was not the intent of the rules," said Director – Competition for V8 Supercars Damien White.
"It was an example of working within the boundaries of the rules but perhaps not the intent. This clarification closes that loophole.
Teams are also now only allowed to change tyres during either of Saturday's two 60-kilometre races if a tyre is damaged or if a race id declared wet, with any replacement tyres to be handed back to V8 Supercars on Saturday evening so that they can't be saved for Sunday's 200-kilometre race.
"It was one thing to prevent the unnecessary use of wet tyres, however we still needed to create an allowance to change a tyre," added White.
"Importantly, the way we structured this amendment, it is only permitted to change a damaged tyre. You can't just change because you've had a problem in the Saturday race and want to save tyres for Sunday.
"Again, that's not the intent. So, they can change tyres, but they can't use the replaced tyre or tyres on Sunday."