Subscribe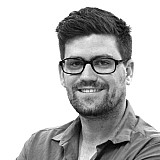 James Courtney says tyres will be the deciding factor during Sunday's 200 kilometre V8 Supercars race at Barbagallo Raceway.
The Holden Racing Team driver, who currently sits second in the title race, says that discipline will be crucial on Sunday, with drivers having to manage tyres carefully if they want to be in the hunt come the finish.
"We all knew coming in here that it was going to be a matter of managing the tyre, and [practice] highlighted that more than what we predicted," he said.
"So it is going to very much be a tyre conservation race, and we're going to have to be really careful with those tyres and look after them. Because it will be tight to get through on Sunday, and if you get a little carried away you'll be in a whole world of hurt late in the race.
"It's going to be hard for us, as drivers, to control that, and also for the teams with strategy. Someone might push on at the start of the race and pull away, and we'll have to exercise some self control to monitor that and drive to the number that the team picks for you.
"It will be a long afternoon."
Driving to a number
Courtney is also concerned that the need to conserve rubber will result in a less than thrilling race, with the engineers playing as a big a role as the drivers.
"It ends up making us drive to a number," he said.
"Because you don't have enough tyres, you can't rag it and lunge it and all this sort of stuff because one you don't want to flat spot it, and two, you're going to burn the tyre out.
"So you end up driving to a number and really hoping that the number you're driving to is better than the one they're driving too.
"It takes a little bit of the aggression out of the driving, and stops people having a red hot go. It's more engineers racing than us racing."