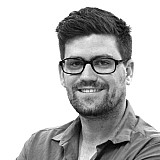 Triple Eight team manager Mark Dutton says the #1 Commodore will be "all good" for the Sandown 500, despite a setback during the new car's maiden test yesterday.
The championship-winning squad hit Queensland Raceway for its crucial pre-Sandown 500 test yesterday, rolling out a brand new chassis for Jamie Whincup in the process.
However, the test didn't go to plan. A vibration issue left the new car stranded in the garage for the majority of the day, robbing the team of valuable track time ahead of the three long-distance races.
"With a year limited in test days, and the position we are in speed-wise, against our opposition, we really relied on a good day today," said Whincup.
"Normally we are ultra prepared, but these are the cards we've been dealt. So we can only do the best with what we've got."
Despite the setback, Dutton is confident that the car is quick – and that it will be reliable enough to be a contender in Melbourne in just over a week.
"Today we didn't get to see much of the cars performance, it was more of an extended shakedown, but we will be all good for Sandown," he said.
"In 2013 we built a new chassis after the pre-enduro test before Sandown, which came out and won Sandown.
"So although we have our work cut out for us, I am confident in the team's ability to get on top of the issue."