Team BOC press release
Mammoth Team Effort Rewarded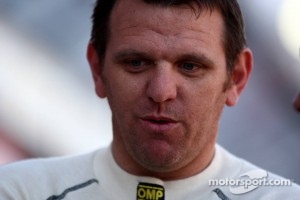 Jason Bright
This time yesterday Jason Bright thought his Clipsal 500 was over but, thanks to Team BOC's mammoth effort, he has points on the V8 Supercar scoreboard.
Bright's car was initially written-off by the team after he slid on oil into Adelaide's concrete walls early in yesterday's race. On closer inspection, however, the team decided to give it their best shot and worked miracles to get Brighty onto the starting grid today.
He qualified 15th and battled handling issues to finish 16th, salvaging 57 points from the weekend.
The next race will be a none-championship round in support of the Australian Grand Prix from 15-18 March in Melbourne.
Jason Bright
Team BOC
"The job the guys did was just awesome. The whole team got stuck in and it was all hands on deck. They did a very good job and we qualified pretty well considering. The other teams in the same incident worked more hours and didn't qualify as well so I think we did a pretty good job.
"It's just good to get out there and get some points. When I saw the car after the shunt, initially I didn't think we would be able to get it back out but the main stuff, like the suspension points, were all still in the right places.
"In the race the car wasn't good enough early on so we had a play with it in the first stop. I thought we'd improved it for the second stint so we went further in that direction in the final stop. Unfortunately we weren't able to change our right-rear tyre in that stop and it ended up doing 50 laps so, towards the end, I was struggling through every left-hander."