Get alerts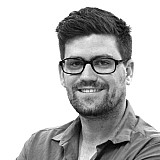 Shane van Gisbergen took an impressive win – Holden's 500th in Australian touring car racing – away from a stunning first V8 Supercars race at Symmons Plains in Tasmania.
After pole-sitter Mark Winterbottom led the first handful of laps, an early round of stops shook up the order at the front.
The big winner, initially at least, was Jamie Whincup. The #88 Commodore pitted from P5 on Lap 4 – the first of the front-runners – and it paid off big time. He managed to cycle his way past team-mates Craig Lowndes (who pitted to laps later), Shane van Gisbergen (another three laps later), and Will Davison (another two laps later again).
But Whincup wasn't able to hold on to effective lead for long. It was van Gisbergen who had the car speed at the beginning of the second stint, the Kiwi comfortably passing Whincup at the hairpin on Lap 18 to take a lead he would never lose.
"That was a great race, pretty exciting at the start," said van Gisbergen. "It was great racing with Jamie and Craig there."
Davison was another to come out of the stops with plenty of car speed, given he was on the youngest tyres of the front-runners. After slogging around in P4 behind Lowndes, he finally made his move on Lap 34, grabbing P3 from the veteran at the second-last corner.
He then closed right up on the back of Whincup, falling just a couple of tenths short of splitting the Red Bulls at the front.
Lowndes ultimately slipped back to fifth. Rick Kelly, who was there or there abouts all afternoon, pouncing on P4 with just a few laps left.
Winterbottom, who found himself shuffled back to sixth by the end of the stops, spent the latter stages of the race with mirrors full of his team-mate Cam Waters. The pair diced hard for P6 over the last 15 laps – only be jumped by Jason Bright who had some of the freshest rubber in the field in the closing laps.
The Frosty/Waters battle continued over P7, rookie Waters pulling off a daring move at Turn 6 to take the intra-team honours… while Winterbottom wound up behind Tim Slade, another to benefit from having fresher rubber at the end of the race.
Scott McLaughlin, meanwhile, never had a chance. His Volvo dropped on to seven cylinders on the out-lap, leading to the GRM crew hurriedly trying to fix the car on the grid.
It didn't work, a broken engine component forcing McLaughlin to pit at the end of Lap 1. He did get back on track, 10 laps into the race, and was forced to deal with the problem until the finish.