Subscribe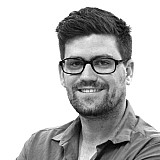 Shane van Gisbergen comfortably topped today's first practice session in Sydney, while Mark Winterbottom ended up in the wall.
Tekno driver van Gisbergen was in a class of his own for most of the half-hour session, becoming the first to drop under 1m29s with a 1m28.838s, before lowering that benchmark to 1m28.645s with just 45 seconds remaining.
That time left him a whopping 0.4s clear of Penske driver Scott Pye, who finished with a best of 1m29.087s, with David Reynolds a couple of hundredths further back in P3.
Jason Bright and Rick Kelly both improved right at the flag to be fourth and fifth fastest, with Triple Eight's Jamie Whincup in sixth, more than seven tenths behind van Gisbergen.
The biggest story of the session, however, was Winterbottom hitting the wall. The points leader had a big scare 20 minutes into the session, hitting the tyres on the exit of Turn 1 with both the rear and the front of the car after getting loose right before the apex of the corner.
While the damage was largely cosmetic, Winterbottom spent the rest of the session in the pits and ultimately finished up 10th fastest.
"That's what practice is for, to try and find your limits," he said. "I made a little change, and it was a little bit loose. I turned in and she went. It wasn't a biggie, I just sort of nudged the panels in."
Despite the crash, Winterbottom was still faster than title rival Craig Lowndes. The veteran was just 13th fastest, although still upbeat at the end of the session.
"[The track is] a little big green," Lowndes said. "Obviously as the weekend goes on it will rubber up. We're quite pleased, like everyone we're making adjustments."