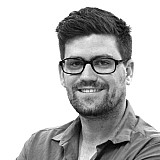 Title rivals Mark Winterbottom and Craig Lowndes will book-end the grid for today's first race in Sydney, while Jamie Whincup will start the second race from pole.
In the first of two 10-minute sessions, Winterbottom pulled out all the stops on his second run to claim a crucial pole position ahead of a race that could see him win a maiden title.
"I'm pumped, that's awesome," said Winterbottom. "We're in the right position to have a go. When I'm doing those laps I'm nervous, but getting pole is a good way to put all that to bed."
Equally crucial was that Lowndes will start the first race from P25, thanks to nosing into the wall in the final sector of his important final lap.
"It was my mistake. I went down to Turn 11, I saw a yellow flag, tried to pull it up, and ended up in the fence," explained Lowndes.
"This place is a high risk-reward, and of course we all see what happens when you're trying to push the limits."
Shane van Gisbergen qualified second, but it could have been so much better for the Kiwi. After going comfortably fastest on his first run, van Gisbergen was set to pip Winterbottom for pole – only for James Moffat to crash at the last sector, making it impossible for the #97 to improve.
James Courtney qualified third for Race 1, ahead of a gaggle of Holdens including Jason Bright, Jamie Whincup, and Tim Slade – who actually hit the tyres after his lap and was forced to sit out the second session thanks to the damage.
Whincup fires in Q2
A last-lap charge from Whincup saw the outgoing champion secure pole for the second of today's races.
The Triple Eight driver made big gains on his second run, a stunning 1m27.642s, securing pole position ahead of David Reynolds.
Van Gisbergen was third-fastest, just four thousandths behind Reynolds, while Winterbottom was once again the better of the two title contenders in P4.
Unlike the first session, Lowndes did manage to set a representative time. However, it was only good enough for P9, giving him a mountain to climb today if he's to keep the title fight going until tomorrow.