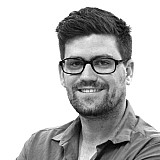 Garth Tander's poor practice pace has been traced back to a steering problem.
The Holden Racing Team driver was 25th and last in the first practice session in Darwin, with his team manager Adrian Burgess confirming that a steering issue left him stranded in the pits for much of the crucial opening session.
"We had a steering issue. It didn't fail or anything like that, just felt strange left-to-right," confirmed Burgess.
"We continued through a little bit of the programme, but we weren't really making any headway so we decided to drop the time in the session and change it.
"That's fixed, that's good. We're a little bit behind the eight ball, but the other cars are going well. It's only a small set-back."
"[Garth] wanted to be out there learning, trying different lines, seeing how much grip is there. But he's a big boy, he's been around a long time. He'll bounce back in the next session."
New set-up philosophy
Burgess added that all four HRT/Walkinshaw Racing cars were running a radical new set-up, following the team's poor outing at Winton last month.
"The last event at Winton was fairly average for us, so we've come here with a completely different philosophy on the set-up, and we've probably gone a bit far," he said.
"Now we need to track back a little bit. The traits that were in the car ay Winton definitely aren't here this weekend, so now we need to get it balanced front-to-rear.
"I'm sure we'll be firing when we need to."