Get alerts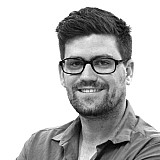 Walkinshaw Racing's Tim Slade says it's not a lack of pace, but rather "silly little things" that have cost him results so far in 2015.
Slade had his best weekend of the season last time out in Darwin, finishing all thee races inside the Top 10 and taking his first podium of 2015 with second in Saturday's second sprint race.
However, rather than the results coming thanks to a dramatic turnaround in pace, Slade says it was simply a case of having a trouble-free weekend.
"We've just had lots of silly little things go wrong so far this year," Slade told Motorsport.com.
"I've been relatively happy with our speed in general. At Clipsal we had good speed, and then I made a mistake and broke the steering while running top five in one of the Saturday races.
"In Tasmania, we missed all of the practice on Friday with a little drama, which puts you behind a long way. Then we were running 10th on Sunday, and considering what happened on Friday I thought 'this isn't too bad at all' – and then we ran out of fuel with two laps to go.
"In Perth we were strong, in the top half a dozen on Sunday, and then the rear wishbone broke. And Winton we just struggled as a team in general.
"So it was nice to just have trouble-free weekend [in Darwin]. It was good to be back on the podium and the other results were solid Top 10s, which is where I want to be."
Not happy despite podium
Ironically, while Darwin brought the best results of the season for Slade, he was actually unhappy with his speed across the weekend.
"As a team, we weren't actually that happy where we were speed-wise; we had one particular drama at Winton, which hurt our speed, and then in Darwin we had the exact opposite problem," he said.
"The last couple of races we haven't been where we want to be, but we've had some good solid debriefs and meetings to try and get back on track consistently.
"The debrief from Darwin, everyone in the room – drivers, engineers, management – we call came out on the same page, and all understanding that there is a little bit of work to be done."
History means nothing
While Walkinshaw Commodores generally perform well not the streets of Townsville, Slade says that's absolutely no guarantee that he will be at the front this weekend.
"The Walkinshaw cars have been strong at Townsville in the past, and if they do suit a circuit, I would say they suit a street circuit more than any other circuit," he added.
"But that's changed over the last 12 to 18 months, because the sport is constantly evolving, changing, and getting more and more competitive.
"So you can never really go into a race meeting basing it off of the previous year's results."