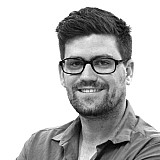 Tim Slade says he is looking forward to being the team leader for the first time in his V8 Supercars career when he moves to Brad Jones Racing next season.
One of the paddock's worst kept secrets was confirmed yesterday, with the news that Slade will leave Walkinshaw Racing and replace Fabian Coulthard in the Freightliner Commodore at Brad Jones Racing next season.
It means Slade will take on a leadership role within a team for the first time, having driven 'third' cars at both Stone Brothers Racing and Walkinshaw Racing.
Speaking on Fox Sports' Inside Supercars TV show, Slade said it is a challenge he's ready and waiting for.
"That's something that I'm definitely looking forward to," he said.
"I guess it's a situation that I've never really been in. At SBR I was always the third car, although Ross and Jimmy run a pretty good show there and you were never really made to feel as though you were the third car.
"So I think that's probably the best thing about this situation for me is that I'm going in to that [leadership] role. And I'm going to enjoy working under Brad and Kim; it seems as though they've got a really great little team there and everyone is very passionate about it."
Long-term plans
While the exact length of the deal wasn't announced, Slade said that he will be looking to settle in at BJR.
"You only have to look at their previous drivers. Fabs (Fabian Coulthard), even though he is moving on he's been there for four or five years I think, and Brighty (Jason Bright) has been there forever.
"For me, I don't want to be chopping and changing every couple of years.
"The way it is, I had a really good solid run and some good momentum going at SBR, but then I didn't really have a choice there when it changed to Erebus. That didn't work out, so I decided to move on. And in this situation now I didn't really have a choice because there is no spot for me at Walkinshaw next year.
"So I couldn't be happier, really."