Subscribe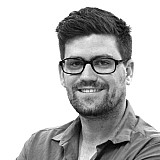 Test-topping V8 Supercars driver Tim Slade says he's ecstatic with how quickly he's been able to settle in to the Albury-based Brad Jones Racing squad.
The 30-year-old switched from Walkinshaw Racing to Brad Jones Racing in the off-season, taking over the #14 Freightliner Commodore from Fabian Coulthard.
While he's now only completed two days of on-track running with the team – a shakedown last week and yesterday's test – Slade says he couldn't be happier with his new surroundings.
"They're an awesome bunch of people here," he told Motorsport.com of the rural-based, family-owned team.
"I've been to Albury four or five times now, and I've spent the last week in Albury. It's really cool to see how genuinely well everyone gets along in the team.
"It really reminds me of where I grew up in Adelaide; it's a big country town and people live, literally, two houses apart and hang out with each other outside of the racing.
"That side of things is really cool to see, and really cool to be a part of. I feel like I've been here for ages already.
"It's really nice, given that it's a new car and a new team, to jump in this morning and it felt like home."
Impressive start
Slade has enjoyed a positive start to his BJR career, topping yesterday's test at Winton with a 1m21.260s coming on soft tyres 23 laps in to a 130-lap stint.
While a number of factors, including tyres and extreme heat, mean the times aren't necessarily indicative of form, Slade says he's impressed with the brand new Commodore chassis.
"It feels good. I'm pretty happy with how things are going, and I feel comfortable," he said.
"Fortunately it's not chalk and cheese compared to the Walkinshaw car. It doesn't feel as though I have to radically change my driving style to get the most out of it, it's more like 'let's try this, let's try that'. And you're probably doing that track-to-track, tyre-to-tyre, day-to-day.
"I'm enjoying driving it, let's put it that way."