Get alerts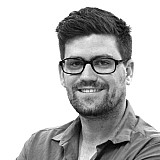 Five-time V8 Supercars champion Mark Skaife says this weekend's title decider in Sydney presents a pivotal moment in Mark Winterbottom's career.
The Prodrive Racing Australia star will win not only his first championship, but also the first for the former factory Ford squad, if he can hold off an in-form Craig Lowndes at Homebush this weekend.
And according to former V8 champion and Fox Sports analyst Mark Skaife, it might just be now or never for Winterbottom.
"I've said all year – and I know he doesn't like me saying it – but if he doesn't win the championship this year he never will," Skaife told Motorsport.com.
"This year is a championship that he deserves to win. He's driven very well, and the team have been outstanding."
Qualifying crucial
Given the risky nature of the demanding street circuit, Skaife says the best advice he could possibly offer to Winterbottom going into the weekend is to qualify well and leave the mid-field carnage in his mirrors.
"I would say just go and apply yourself like you have all year," said Skaife.
"The car has been fast at different race tracks, so I think the car will be quite good. He's obviously been fast, and I thought his pole position and start to the race on Sunday at Phillip Island were a real statement. He couldn't have been more professional in those two disciplines that are so critical to getting a result.
"So going into this weekend, I would be saying 'do what you've been doing, and make sure you qualify well and you're at the pointy end'.
"When you're in that frame, then you minimise the risks. There's clearly no future in being in the middle of the field at a place like that."
The pressure behind the smile
As for Winterbottom's title rival Craig Lowndes, Skaife says that despite his relaxed demeanour and underdog status, the Bathurst winner will still be feeling the pressure heading into Homebush.
"Craig is human. And there is no human who wouldn't feel pressure to perform when you're in a critical phase of a year or a championship like this," added Skaife.
"So behind that big smiling face and behind that relaxed demeanour, is a very intense, very tough competitor.
"Motor racing is a very personal thing in that way. You stand there having a shave in the morning and you think 'how is this all going to play out?' Nobody else knows what the car actually feels like, not even the engineers in reality, nobody else knows if that was really a good lap, and nobody else knows whether you've performed to your own expectations. It's all very personal.
"It's a complex sport, it's very personal in the way you approach it, and Craig will absolutely be feeling the pressure. But what's being working for him is to have that relaxed demeanour.
"He's an outside chance, that's the reality. He's 179 points behind with 300 up for the weekend. He's an outside chance at a very risky joint.
"So what does he need to do? Just the best that he can – and that's what Lowndes will do."