Get alerts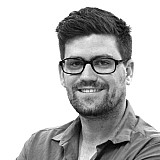 V8 Supercars star Scott McLaughlin says the wet weather lap of Mount Panorama that earned him a front row start for tomorrow's Bathurst 1000 was the scariest lap of his life.
The young Kiwi ran in the better of the wet conditions that heavily affected the Shootout, banking the second fastest time behind David Reynolds.
But while the conditions McLaughlin faced were better than others, they were hardly great, and left the Volvo driver wide-eyed at the finish of his lap.
"It's pretty cool [to be second], because that was the hardest and most scariest lap of my life," he said.
"The hardest thing was that you just didn't know here to brake, you didn't know how much road you could use, where it was going to be slippery – especially with the new surface.
"So it's a bloody good feeling."
Reynolds praises Shootout plan
According to pole-sitter Reynolds, getting the most out of the car in difficult conditions came down to having a plan.
"It was a good lap, I had a little plan," explained the Prodrive driver. "It was to not hit any kerbs, not hit any white lines, and always get good runs on the straights and have a go where you see fit – and it paid off.
"It was a pretty good feeling. When the rain started coming down a lot, I knew it wasn't going to be a struggle for the last couple of contenders, so I kind of knew in my mind that I had it."
"It's a small win. We're still here to win the race overall, and it's a six-and-a-half hour race, it's not decided in five minutes.
"Yesterday was pretty bad for our team, we've got a driver in hospital that's quite hurt. So we're all thinking about him at the minute."