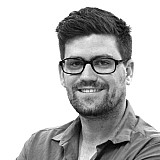 It may not have been a dream start to the V8 Supercars season for GRM Volvo, but owner Garry Rogers says there is little point "sooking" about it.
The team's star driver Scott McLaughlin was 10th fastest in today's second practice session in Darwin, but had to battle through power steering problems to get there.
The issues were just another in a long line of technical problems that have plagued the team so far this season.
According to Rogers, the problems haven't been ideal, but its no excuse for the team to not stop trying to win races, and maybe even the title.
"We had those engine issues. We can sook all we like about it, but the fact is that's been a set-back for us," he said.
"But, there's a long way to go. Can we win the championship? It's bloody hard from there, but we can't just sit down and bury ourselves either. I'm sure we can improve from where we are.
"We had those power steering issues and alternator issues last year, but if you really look at it, we haven't had any of those other ongoing problems this year.
"The engine is a new problem, and we didn't know it was going to happen. Of course we didn't.
"Do we like it? No we bloody well don't. But, there's no good sooking. You know what, do something."