Get alerts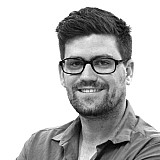 David Reynolds says Shane van Gisbergen is 'dead to him' after the pair came to on-track blows during the first race at Phillip Island.
After running side-by-side through the first corner on the first lap, an exchange that saw van Gisbergen run slightly wide, the Kiwi went looking for payback a lap later at The Hayshed. He made minor contact with the back of Reynolds's car, which sent the #55 Falcon into a high-speed spin.
While the car wasn't damaged, the spin meant Reynolds finished last and dropped a significant amount of points to rivals Mark Winterbottom and Craig Lowndes.
And that left him fuming at the finish.
"He was drilling me a few corners before, and then he drilled me at Siberia," Reynolds told the Fox Sports TV crew at the end of the race.
"He must have got the tiniest overlap and… I don't know. It's a really, really stupid thing.
"The good drivers in the field, they can pass you without crashing into you. I must have got a bad one beside me.
"He's dead to me."
Van Gisbergen, meanwhile, admitted that the initial contact was meant as payback for being run wide at Turn 1, but also said that the spin was caused by Reynolds driving across the front of his car.
"He just ran me off the track [at Turn 1]. But [that's a] separate incident," he said.
"I gave him a little bump at Turn 6, probably a little too much but then I was clearly beside him and he just kept running me across the road. I'm happy with that, but then he ran me too far so I wasn't going to back out of it.
"Championship-wise, I know he's in a fight, I'm not in it – but that's not the point. I'm still worrying about my championship so I was pushing as hard as I could. I'm sorry to end his race like that, but I wasn't going to back out."
While the incident is now subject to a post-race investigation, van Gisbergen said he's not expecting to get a penalty – but that Reynolds should be penalised for the Turn 1 incident.
"I was beside him, and I saw him see me," he said. "And he just drove me straight off the road. That's a bit average."