Subscribe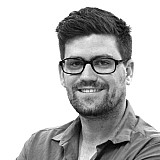 Out-of-contract V8 Supercars star David Reynolds says he has to be patient as he waits to see if his future is at Prodrive Racing Australia or elsewhere within the championship.
Reynolds has been the subject of paddock chatter since the beginning of the season, with Dunlop Series pace-setter Cameron Waters believed to be in the frame to step up to the main game with PRA next season – perhaps at Reynolds' expense.
However, Reynolds is putting up a fight for his seat, complicating PRA's driver decision by storming to a well-earned victory in last Sunday's 200-kilometre race in Darwin.
The situation is further complicated by PRA's sponsorship situation for next season, with both Bottle-O, the major backer of Reynolds' #55 Falcon, and Pepsi Max, the major backer of Mark Winterbottom and Chaz Mostert's cars, out of contract and reviewing their involvement in the sport.
According to Reynolds, who makes no secret of his desire to re-sign with PRA, all he can do now is patiently wait for things to fall into place.
"It's all bubbling away," he told Motorsport.com.
"Obviously I'd love to know as early as possible what I'm doing, but it's kind of out of my control. I'm waiting on a few things to happen and fall in place, it's that simple.
"But I'd like to stay where I am, because its a good team with very fast cars."
Darwin win "counts for a bit more"
With Reynolds definitely needing to sign a contract for 2016, whether it be with PRA or another team, he said his Darwin success was a combination of hard work coming together, and very good timing.
"Absolutely it's timely," he said.
"I've been working hard all year, and I haven't been that far off. Last weekend, my car was really, really good to drive.
"And there's something to be said about the circuit as well; some tracks suit some drivers, others suit other drivers. That one suited me, and in that situation you have to capitalise on your pace.
"But yeah, I'm out of contract, so of course it counts for a little bit more. I'm relieved, but I don't want to sit down and chillax. I have to keep working now.
"I'm just going racing, but every time you drive out of pitlane you're driving for your career. Everyone is.
"Every session is monitored, everyone tracks how you're going – and it's like that every time you leave pitlane.
"It's a sport, you know. If you want to know how good you are, you can always tell very easily."