Subscribe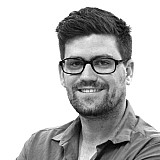 Controversial V8 Supercars star David Reynolds says he understands why his fellow drivers are so conservative in the media, after being hit with a $25,000 fine for comments made in a press conference at Bathurst back in October.
Reynolds made an off-colour joke during a press conference at Bathurst back in October, referring to the all-female entry of Simona de Silvestro and Renee Gracie as "the pussywagon".
He was subsequently hit with a $25,000 fine for his comments, one of the biggest fines ever handed down to an individual sportsperson in Australia.
While accepting that he went too far in that case, the quirky driver – whose other antics have included throwing pot plants from the podium and drinking champagne from his racing boot after winning in Darwin this year – says it has become increasingly difficult to bring any personality to media appearances.
"It's hard. I understand why drivers don't say anything or try and be anyone interesting, or stand for anything. It's too risky," he told Motorsport.com in an exclusive Q&A.
"There are 25 drivers in our sport, and they're all radically different people. But they all say the same stuff at each press conference. It's kind of boring when you sit back and watch and listen to interviews.
"I have learned from what happened, and I won't make jokes anymore – because $25,000 is a lot of money. But I don't want to be boring, either. I'll just be myself as much as I can, I guess."
For more with David Reynolds, check out Motorsport.com's exclusive interview.