Reynolds: 'I'm an absolute title contender'
David Reynolds reckons he's a genuine Supercars title contender, having conquered his bogey track by finishing on the podium in Adelaide.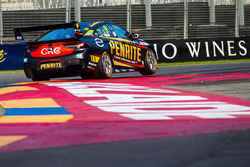 The Adelaide 500 was an emotional rollercoaster for Reynolds, the Erebus star admitting that he went into the weekend with incredibly low expectations and was shocked to come away with a fourth and a second from the two races.
He even admitted that a lack of self-belief directly contributed to him not taking the fight to winner Shane van Gisbergen on Sunday afternoon, after popping out in the lead after the final round of stops.
Keen to shake off the lack of self confidence, Reynolds reckons that his Adelaide results are a clear sign that he and the compact Melbourne-based team are in a position to genuinely take the title fight to powerhouse squads Triple Eight, DJR Team Penske, and Tickford Racing.
"This year we're absolute contenders," he said.
"That was our whole goal, to be a title contender and be in the hunt right until the end and see what happens.
"As you saw last year, the bloke that everyone thought would win with a couple of rounds to go didn't win. So anything is possible...
"You've just got to finish all your races and gather points, and take you opportunities while you can."
Reynolds heads into the second round of the season at Albert Park sitting second in the points, 42 behind van Gisbergen who bagged a perfect 300 over the Adelaide weekend.
Proud of early ZB speed
With Triple Eight having designed and developed the new ZB body shape, the rest of the Holden teams were always going to be heading into the first round of the season less familiar with the car than the factory squad.
So seeing Erebus almost match Triple Eight for car speed was something special, according to Reynolds.
"Not surprised. Proud. Proud is the word I'd use," he said.
"There's not a lot of us [in the team], but we just do a good job.
"We've got new cars, we got our panels really late which stressed everyone out, and we came out swinging.
"That's fantastic. It's been crazy."
The eccentric Bathurst winner also pointed out how much of a shift in team culture there's been since he joined what was a struggling outfit switching from Mercedes to Holden hardware two years ago.
"In 2016 we struggled to make it [to Adelaide]," he added.
"We had all this shit go wrong. Half of the crew had never done pitstops before, or never worked in Supercars before. And two years later we're challenging for wins.
"That's the category, though. The category is so well-controlled and close; you put some good people in place and things start happening quickly."
Reynolds: 'I'm an absolute title contender'