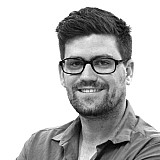 David Reynolds says he is committed to being a V8 Supercars title contender for years to come, as he looks to shore up his future in the sport.
Reynolds' current deal with Prodrive Racing Australia is up at the end of this season, which means he is technically on the market as he is yet to sign an extension with the Melbourne-based squad.
While he declined to comment in detail on his future, he did point out that, despite his relaxed demeanour, he takes the sport seriously – and is committed to building a future in V8 Supercars racing.
"I want to be a championship contender, every year, for as long as I can be," he told Motorsport.com.
"That's my goal. It's my career, my job, my passion, everything.
"And I put everything into it, even out of the car with training. I flat-out live it and breath it. Every day I get up looking to improve myself.
"I've won a big race, but I've got a lot more to win."
Best yet to come
While Reynolds was marginally behind his Prodrive team-mates at Winton, bagging two fourths and a sixth while Mark Winterbottom and Chaz Mostert shared the wins, he says he is more than pleased with the FG X Falcon, and is eyeing some big results as the season wears on.
"We're getting the job done on-track, all of our cars are," he said.
"When you've got grip, you've got to use it to your advantage – I think we're doing a good job with that.
"The team spent a lot of time on the aero package over the summer, and it's come out brilliantly.
"And I haven't got to my really strong tracks yet. I've still got my favourite events left in calendar. When I go to tracks I really enjoy, and know a bit better, I'll be looking for a big result."
No mercy in future Tander meetings
Meanwhile, Reynolds is still fuming over his run-in with Garth Tander during Sunday's race at Winton.
The pair spent much of the race scrapping over fourth place, with Scott Pye also in the mix. The heated battle saw plenty of contact, with Reynolds left furious with some of Tander's defensive driving.
"I'm still very angry about it," he said. "Really, really angry. It takes me a lot to get wound up.
"I know he's a good driver, he fights hard for his position, but it's too hard. It comes across a bit too desperate.
"Next time I'll be less merciful, let's put it that way."