Subscribe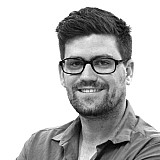 V8 Supercars title contender David Reynolds says he feels like can finally focus on his driving, having secured his future with an Erebus deal for 2016 mid-last week.
Reynolds has been caught in a seesawing contract extension saga with current team Prodrive Racing Australia throughout the 2015 season. The saga finally came to an end in the middle of last week, PRA announcing that Reynolds was free to look elsewhere just hours before Reynolds confirmed he will race for Erebus in 2016.
Reynolds backed up the announcement with his best round of the season so far at Pukekohe, with a pole, a win, a third, and a fourth from the three races.
According to Reynolds, he was able to drive with a renewed sense of freedom in New Zealand thanks to finally having his future sorted.
"Anytime you have got some uncertainty surrounding you and you have to worry about other things outside of doing your job, it takes the focus away from your driving," he told Motorsport.com.
"But on the weekend my car was good, I love that track, and I didn't have to listen all this speculation from the media. I could just do my job."
Reynolds always knew he'd drive for Betty
While Reynolds admits his primary focus was on staying with Prodrive – hence why he missed two deadlines to accept a drive with Brad Jones Racing – he says he's perfectly happy with how things have worked out.
"It's pretty well known that I would have liked to have stayed where I was," he said.
"I was pretty happy there, the cars are fast, so I wasn't necessarily looking for a change. But there comes a point where there was a big possibility I wasn't going to be there, so I had to look elsewhere.
"I'm really happy with the decision to go with Betty and Erebus. I always thought to myself I'd end up driving for her at some point.
"I don't know why, I just like her personality. We get along, we've always gotten along well out the back of the garage. We talk shit for hours, we get along like a house on fire. When she came into the sport I thought 'I'll probably drive for you one day'."