Get alerts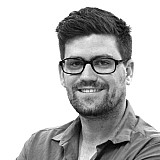 Jamie Whincup has downplayed his record-breaking Supercars race win, claiming that he's in the category just to rack up milestones.
The Triple Eight driver secured his 106th victory in Sydney yesterday, making him the standalone record race winner having been locked on 105 with Craig Lowndes since last month.
But Whincup is playing down the record-breaking effort, suggesting that he's more excited about the ongoing battle with DJR Team Penske than he is about milestone results.
"The number doesn't mean much, as I always say," said Whincup.
"It's great to get another win [on Sunday]; wins this year for me have been few and far between, so it's great to grab another one.
"Lowndesy will be around for another 25 years I reckon, so we won't get too carried away about 106.
"I'm not out to tick boxes or stack up numbers or anything. I'm just out there to race hard and have a good time at the end of the day.
"When you get older and a bit wiser you realise that if you're not having fun it's not worth doing. Going out, having fun, love the racing more than ever. The battles that are going on this weekend are right up there with any battle I've had over the years, since I started karts when I was seven.
"As long as that continues we're having a good time."