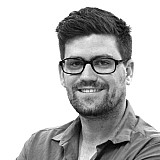 Queensland Raceway has had a concrete lip added to the exit of its final turn, ahead of the V8 Supercars round set to be staged at the Ipswich circuit at the end of the month.
The extra concrete follows the outer perimeter of the 180-degree corner, and according to a social media post from the circuit's management has been added to "ultimately help reduce damage caused by drifters and make Turn 6 safer for all that may come unstuck."
While the additional width may come in useful for a V8 Supercars driver that runs to deep into the corner, particularly given there is currently no hard run-off there, it is unlikely to make any great change to the profile or racing line of the crucial run on to the main straight.
According to V8 Supercars driver Will Davison, whose Erebus Motorsport team uses Queensland Raceway as its test track, the corner rewards a tighter line, making additional space on the outside redundant in terms of lap-time.
"Unless it's concrete on the back of the exit kerb, which I'm sure V8s wouldn't let us use anyway, it's not going to change the nature of the corner," Davison told Motorsport.com.
" You arrow in there very early, you diagonal the entry and 'V' the corner, so to speak. It's essentially a double apex corner.
"The extra concrete might help if someone out-brakes themselves or runs a bit wide, but that's about it."