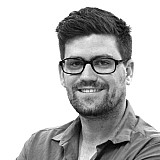 Cameron Waters and Russell Ingall's Prodrive Racing Australia Falcon will carry some 'Back to the Future' inspired design traits in to the Gold Coast round.
To celebrate the release of the 30th anniversary edition of the famous move trilogy, PRA will run a 'Pepsi Perfect' livery for the Gold Coast weekend.
It will also arrive at Surfers Paradise with the car in full DeLorean-spec, with gullwing doors, a flux capacitor, thrusters, and a Mr Fusion.
"This is without doubt one of the best activations I've seen in nearly 30 years in the motorsport industry," said team principal Tim Edwards.
"The lengths the entire team have gone to in order to prepare the car are just fantastic. Every department has played some role and the finished product looks amazing on the big screen and in the flesh."
Head of PRA's fabrication shop Ben Cockerell said the challenge of transforming a V8 Supercar in to a time machine was a unique experience.
"We were surprised when we were asked to turn our Ford V8 Supercar into a DeLorean time machine but once we worked out what we needed to achieve, it became a real passion project for everyone involved in preparing the car," Cockerell said.
"Modifying and making the gullwing doors without changing the car was a big challenge.
"Making them look like they were actually part of the car was the hardest part so I hope our fans and fans of the movie appreciate how much effort has gone into this car."